---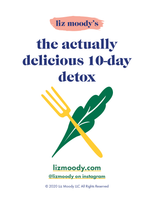 I've spent years working in the health and wellness world, where I learned that fad diets don't work—and they make you feel miserable. That's why I set out to create a detox that redefines the word detox—a healthy eating plan that can help you achieve whatever health goals you have in mind while also being easy to follow & actually delicious (something I've yet to find in this space!). Here's the lowdown and what you actually get:
10 full days of breakfasts, lunches and dinners (designed to take as little time as possible and to go together so you don't have any leftovers or wasted produce!)
60+ pages of grain-free, dairy-free, vegetable-packed recipes
Guides to everything from up-leveling your health to eliminating constipation
Full shopping lists
A complete workout and meal prep calendar, so you don't have to plan ANYTHING
And yes, you actually get a dessert every night—but it's got secret ingredients to give you the best sleep of your life!
This plan combines science-backed knowledge from the country's best doctors with my own experience as a health journalist & 2-time cookbook author. This detox is for you if:
You want to get back on track after a period of indulgence
You want to heal your gut
You want to help ease anxiety
You want to increase energy levels
You want to hit your happy weight—and maintain it
You want to lower inflammation
You want to start eating healthy, but have no idea where to begin
You want to feel freakin' amazing
Delicious smoothie but need more.
Firstly I love the detox - the smoothies and soups are great. But some dinner recipes the measurements were off. I also would love to understand why there wasn't enough protein on the menu like is it because it's detox? Not so sure about that part. I was hungry most of the times maybe I wasn't clear about portion control. Overall it made me stay focused so it was worth that investment !
The Actually Delicious 10-Day Detox
10day detox
The favors of each dish are amazing. My husband and I loved each and every dish. I will now incorporate more veggies into my recipes. Liz made it so easy. Prep one day and less cooking the next few days and that's also how I like to cook. Old school person, like real food that's easy. Thank you
so much! Cookies below I made small so we could have two each. Will be making again.